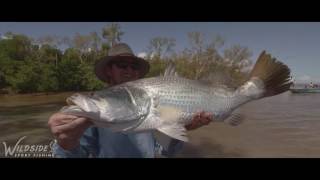 The Big Rivers tend to fish best in the first part of the year or 'Runoff', and then in the 'build up' through September and October.

Fishing Grounds –
Shady Camp / Mary River / Sampan & Tommycut Creeks
Daly River
Adelaide River / Saltwater Arm / Wiltshires / Leaders Creek
Finnis Rivers / Dundee Beach
Build Up Season
The weather warms and the humidity rises before the onset of our monsoon season, between the months of September to November, a time of year known as the 'Build Up'. It
brings with it periods of calm weather and rising water temperatures.
These conditions bring the big female barra back on the bite in a big way, as they prepare to spawn. The fishing is as good as the Runoff fishing, and often better! Plus you beat the crowds..
If big Barramundi & Threadfin Salmon are what you are after then an Extended Safari tour would be the best fit for you. They give your crew the best opportunity to lock horns with a monster.
We have a catch and release policy for all large barra and prefer to take only photos (the smaller fish are better eating anyway). These huge fish produce millions of eggs each year and are the reason our N.T. fishery is so productive.
More info on seasons
For bookings or more info contact us.
Follow Wildside Sportfishing on Facebook and Instagram.