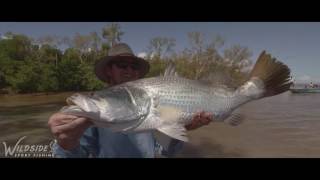 The Big Rivers tend to fish best in the first
part of the year or 'Runoff', and then towards the end in the 'build up'.
Fishing Grounds –
Shady Camp / Mary River / Sampan & Tommycut Creeks
Daly River
Adelaide River / Saltwater Arm / Wiltshires / Leaders Creek
Finnis Rivers / Dundee Beach
The late 'Wet' Season and the 'Runoff' (Jan to the end of April) are seen as the prime months for big barramundi and threadfin salmon in these large river systems.
Bookings should be made in advance as it is an extremely popular time of year for fishos.
Multiple day Safaris are the most common choice as it gives anglers a r
ange of tides and locations within a system to explore, and hopefully locate that 'fish of a lifetime'!
Runoff Season
As the flood plains are filled by monsoonal rains a plethora of sma
ll fish, crustaceans and other organisms breed up over nutrient rich flats.
Other creatures like insects, spiders and lizards are displaced by the rising water and have no where to go. As these plains start to empty all this food is sucked into the arterial water ways – and the barra and salmon are waiting!
Really big female barramundi and threadfin salmon can be found schooling in la
rge numbers feeding after their breeding season, this is the best time to catch a trophy fish!
We have a catch and release policy for all large barra and prefer to take only photos (the smaller fish are better eating anyway). These huge fish produce millions of eggs each year and are the reason our N.T. fishery is so productive.
During this time of year jewfish and snapper can be taken on inshore reefs close to the river mouths. They are incredibly hard fighting, great eating and add another dimension to your tour.
Build Up Season
The weather warms and the humidity rises before the onset of our monsoon season, between the months of September to November, a time of year known as the 'Build Up'. It brings with it periods of calm weather and rising water temperatures.
These conditions bring the big female barra back on the bite in a big way, as they prepare
to spawn. Although not as popular as the runoff the fishing is often just as good, and often better! Plus you beat the crowds..
If big Barramundi & Threadfin Salmon are what you are after then these tours are for you!
More info on seasons
For bookings or more info contact us.