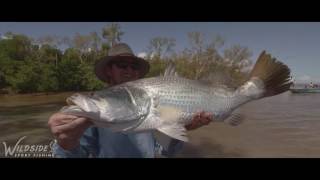 BOOK NOW FOR FULL DAY AND EXTENDED SAFARIS 
After 5 bad wets we've finally had the BIG ONE and boy is it paying off! Cricket scores of barramundi have been landed already including some real thumpers, not to mention massive jewfish and threadfin salmon.
As the water starts cooling down many barramundi seek out the shallow flats and can often be seen tailing amongst mangrove shoots. We catch barra throughout the entire year so #getonboard today!
Big spanish mackerel and tuna move in close to shore alongside the hard fighting queenfish, trevally, giant herring and smaller mackerel species.
Sports fishing during Darwin's dry season is often hectic when these large predators round up and smash into shoals of small bait fish coining the term 'bust up' – a foaming mass of fins and fangs.
Check out our photos on Instagram and Facebook, or head to our Gallery page above for regular updates. Contact Wildside Sportfishing now to secure your favourite tide or dates. PH. 0488546273 or email me at info@wildsidesportfishing.com
Grab a group of mates and make the journey north for an adventure into the 'Top End' !