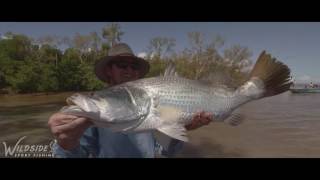 Barra fishing Darwin
September and October are fast approaching – prime months for BIG barra fishing Darwin. As the air temperature rises so does the water temp. triggering the large females into more aggressive hunting behaviour. Basically they are 'easier' to catch!
After 5 bad wets we finally had the BIG ONE and boy it's paid off during 2018! Cricket scores of barramundi have been landed both during the runoff and dry season including some real thumpers, not to mention massive jewfish and threadies.
There's only a month left of what has been one hell of a fishy dry season. If you're up here on holidays #getonboard today! The barra fishing really has been excellent all year.
Where do we fish?
Full day tours have been popular out to Dundee Beach with great catches of barra taken lately both casting and trolling.
Another popular location with our clients is Corroboree Billabong, a must visit if it's your first time up to the Territory.  Spectacular scenery and wildlife abound on this vast inland waterway.
What Else could we catch?
In the blue water large spanish mackerel and tuna are in close to shore alongside the hard fighting queenfish, trevally, giant herring and smaller mackerel species. Sure to have your reel screaming in no time!
Sports fishing during Darwin's dry season is often hectic when these large predators round up and smash into shoals of small bait fish coining the term 'bust up' – a foaming mass of fins and fangs.
Follow Us on social media!
Check out our photos on Instagram and Facebook about barra fishing Darwin, or head to our Gallery page above for regular updates. Contact Wildside Sportfishing now to secure your favourite tide or dates.
Call   0488 546 273
Or email us at  info@wildsidesportfishing.com
Grab a group of mates and make the journey north for an adventure into the 'Top End' !