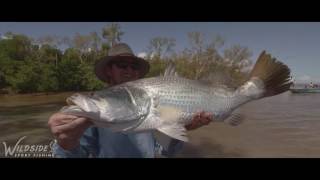 It's been a great year so far for us at Wildside Sportfishing with lots of big fish landed including many PB's. As the dry season continues and the days become cooler we will start to see good numbers of barra up on the harbour flats, tuna and mackerel make their presence known with lots of surface action, and we take folks through the naturalists wonderland of the wetlands / billabongs. Jump on board today for an adventure into the Top End wilderness.
BOOK NOW FOR RUNOFF 2018!
The famous Northern Territory Runoff season is starting to fill up for 2018. Generally beginning in mid February through until May, it is prime time to target massive barramundi, threadfin (king) salmon and jewfish. Contact Wildside Sportfishing now to secure your favourite tide or dates. PH. 0488546273 or email me at info@wildsidesportfishing.com
Grab a likeminded group of mates together and make the journey north for an adventure into the 'Top End' !
Cheers,
Jas