Welcome to Wildside Sportfishing!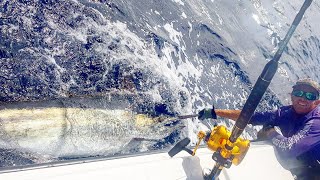 Guided sport, reef, estuary and game fishing charters out of South West Rocks in northern NSW.
Our business is setup by a keen angler, for keen anglers – specializing in offshore sport and reef fishing.
We are fully licensed, insured and have over 22 years experience operating fishing tours.
'Wildside'
Our vessel, a Contender 25 Tournament named Wildside, is surveyed for 30 nautical miles (55 kms) offshore. It is fast, comfortable and a true sport fishing weapon.
Wildside is fully set up for all forms of angling, including game fishing South West Rocks. Outriggers, large live bait tank, flying gaffs, tail ropes, Black Magic Equalizer harness, high / low chirp sonar, plus Makaira 24kg and 37kg stand up tackle are some of the equipment we have on board.
Species?
We target everything from tuna, snapper, mackerel and marlin offshore to mulloway, jacks and flathead in the Macleay River. No fish is safe!
Vertical jigging, soft plastic finesse, surface and sub surface stick baits, high speed spinning and trolling for billfish are some of the techniques regularly used. On board is a massive live well which is generally filled with live bait at the start of a tour – covering all bases.
Why choose us?
We are a different style of fishing charter with a maximum number of 4x passengers. This means I can continue to provide the same service and one on one tuition as I've always done.
Quality fishing tackle and equipment is provided, which is regularly serviced and maintained.
Close attention is paid to the organization of every booking to ensure you, and your crew, enjoy the experience.
Our future..
Anglers invest time, money and effort into chasing fish, and it is our right to take home a feed. There is something so special about harvesting, cooking and eating your own catch – fresh and untainted. (Rather than buying it shrink wrapped off the shelf).
But the saying "limit your kill, don't kill your limit" is now more important than ever. I want my kids, and their kids, to enjoy the thrill of a sport introduced to me by my father.

Over 30 years as an obsessed fisherman, I've noticed one trend more important than anything else – our waterways are under ever increasing pressure. It is our duty to shoulder stewardship of these incredible environments we love so much. To respect and promote the health and longevity of a shared resource, so that fishing may remain a healthy viable past time, long into the future.
Therefore we keep some, and we release some .. =)
Get on board for a guided South West Rocks fishing charter today!
Cheers
Jas
Follow Us on social media!
Check out our photos on Instagram and Facebook about fishing the South West Rocks area, or head to our Gallery page above for regular updates. Contact Wildside Sportfishing now to secure your favourite tide or dates.
Call 0488 546 273
Or email us at info@wildsidesportfishing.com